Registered Nurse (RN) Degree Programs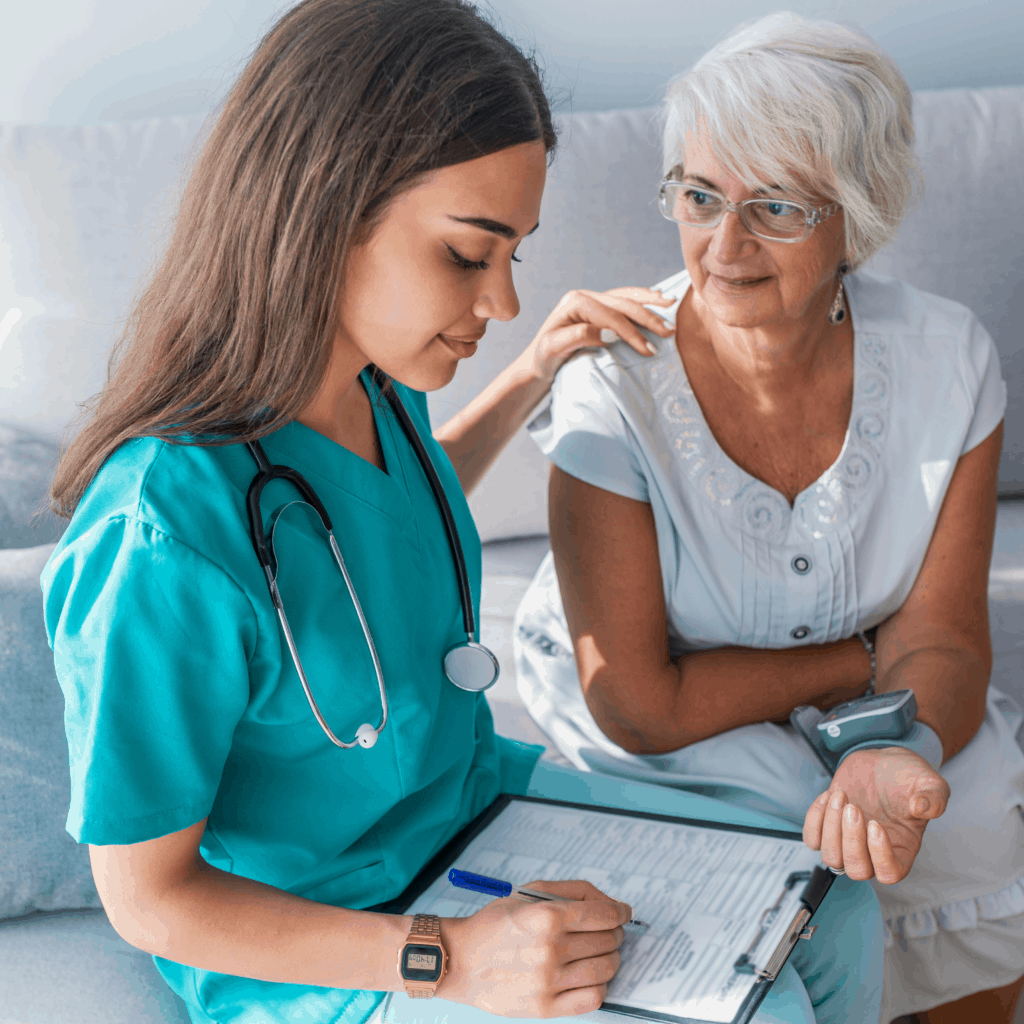 Registered Nurses (RN) compose the largest workforce in the healthcare industry with over one million workings in a variety of healthcare settings in the United States.
Consider an Online LPN-RN Program:
ACHIEVE ONLINE LPN to RN: LPNs earn their ADN or BSN degree online in up to 1/2 of the time and cost of traditional programs. With a No Waiting List to get started, Free Books, and Low-Cost financing options available, this is the perfect way for LPNs, and LVNs to earn their Associates or Bachelor's Degree in Nursing and their RN license. Our convenient, LIVE instructor-led test-out program allows you to learn at an accelerated pace and earn college credit-by-examination which then is eligible to be transferred to an ACEN-accredited nursing school or 100's of universities nationwide.
Learn More.
Due to the current nursing shortage which experts expect to continue for the next couple of decades, nurses in all areas are in great demand. You are therefore assured of job security and very attractive compensation.
Feel free to jump to the bottom of the page to filter down to RN programs in your state
, or to the
RN schools listings to view RN programs near you
.
RN Overview
There are multiple ways to become a registered nurse, but you will need to have a degree and pass the NCLEX-RN exam. Below are typical degree routes for aspiring RN's:
Registered nurses are responsible for providing care to patients suffering from a variety of illnesses or injuries. They work in a variety of settings including hospitals, private physician offices, specialized group practices, community clinics, home health agencies, government and nonprofit agencies, schools, as well as corporate health departments.
Registered Nurses: At A Glance
RN Median Hourly Wage: $31.84
RN Median Annual Salary: $66,620
Top Places RNs Work:
General Medical & Surgical Hospitals
Offices of Physicians
Home Health Care Services
Nursing Care Facilities
Outpatient Care Centers
The top States Employing RNs
California (252,940 RNs)
Texas (190,090 RNs)
New York (169,820 RNs)
Florida (162,530 RNs)
Pennsylvania (124,750 RNs)
*According to the most current BLS report
General Responsibilities of Registered Nurses
Performing basic physical examinations and taking vital signs (blood pressure, heart rate, etc.)
Act as a patient advocate and provide emotional support to patients and families.
Educate patients and their families regarding treatment procedures, proper nutrition, exercise, and medication management.
Take patient medical histories and record present symptoms.
Dispense prescribed medications.
Nurses with experience may provide supervision to licensed practical nurses, certified nurse assistants, and home health aides.
Contribute to patient care plans and update charts with the patient's condition or adverse reaction to treatment and/or medication.
The most popular choice for most nursing students is the associate degree program which can take from two to three years to complete. One benefit of choosing an associate degree program is that you will be able to enter the profession in three years or less and begin to earn an attractive salary and benefits.
However, a bachelor's degree will be necessary to assume positions of greater responsibility and career advancement. Many hospitals and larger nursing facilities offer tuition reimbursement programs covering a large part of tuition costs providing you maintain good grades (at least a B) and commit to remaining with the facility for a period of time following graduation.
School Accreditation for Nursing
When deciding on a school of nursing it is important that you choose one that has been approved by your state board of nursing. Most states require those interested in nursing careers to graduate from nationally accredited schools since this provides evidence that the school has met high standards with regard to curriculum, faculty, and clinical training experiences.
The National League of Nursing Accreditation Commission (NLNAC) and the Commission on Collegiate Nursing Education (CCNE) have been recognized by the U.S. Department of Education as official accreditation agencies for nursing education programs. The NLNAC accredits diploma, associates, bachelor's, master's, and doctorate nursing programs while the CCNE only accredits bachelor and graduate programs.
Aside from attending an accredited program and passing a national exam, every state has individual requirements for registered nursing practice. For this reason, it is important to research your state's requirements so you can be assured that you are following the necessary steps. You may find the contact information for your State Board of Nursing (BON) on the Web site of the NCSBN (ncsbn.org).
Registered Nurse Certification
After completing one of the above-noted programs, candidates must then pass the National Council Licensure Examination for Registered Nurses (NCLEX-RN) in order to obtain a license from their State Board of Nursing. The NCLEX-RN is a computer-based multiple-choice exam administered by the National Council of State Boards of Nursing (ncsbn.org). The exam is focused more on nursing practice than theory with an emphasis on job duties performed by entry-level registered nurses. The exam covers essential nursing skills and competencies and medical knowledge.
5-Step Process to Take the NCLEX-RN
Before you may take the NCLEX exam you will need to apply for an RN license through your State Board of Nursing. The board will determine your eligibility to sit for the exam One criterion is that you have graduated from an accredited nursing school.
Once you have been deemed eligible to take the NCLEX-RN, the state board will send your name to the NCSBN who will then send you the NCLEX-RN Examination Candidate Handbook, an Authorization to Test (ATT) letter, along with a list of Person Vue (the testing vendor) centers with instructions on how to register.
You can register with PearsonVue online, by telephone, or by mailing the application form. The fee to take the NCLEX-RN is ~$200. payable by credit/debit card (Visa, MasterCard, or American Express), bank check, or money order.
Be sure to bring the ATT letter to your testing appointment because you will not be admitted to the testing center without it. You will also need to bring one form of primary identification with a picture taken no more than 6 months previously (e.g. driver's licenses or passport), along with a secondary ID such as social security card or student ID.
You will receive a pass/fail notification once you complete the exam but these results are subject to review by the NCSBN. You will receive the final results approximately 4 weeks after your test completion date.
Career Overview & Outlook for a Registered Nurse
Registered nurses are in tremendous demand! According to the U.S. Bureau of Labor Statistics (BLS), the anticipated growth rate for registered nurses in all practice areas is expected to be 22 percent through the year 2018. This is much faster than the rate for most other occupations. Three factors contribute to this demand:
The reduction in numbers of nursing students is a result of the shortage of nursing faculty. This situation is in addition to the number of nurses leaving the profession due to retirement.
The aging of the population with their increased risk for illness and accident necessitating medical care.
Advances in technology are enabling people to live longer thus increasing the need for healthcare services.
According to the BLS, the areas where the greatest growth will be seen are:
Setting Percent Rate of Growth
Private Physician offices                                 48%
Home Health Agencies                                   33%
Nursing Homes                                               25%
Corporate Health                                            24%
Registered Nurse Education Requirements – How Long Does it Take to Become a Nurse?
As stated, there are three general educational pathways to become a registered nurse:
A hospital-based three-year diploma program
Associate in Science in Nursing Degree (AND) offered at community and junior colleges
Bachelor of Science in Nursing Degree (BSN) offered at four-year colleges and universities
In general, graduation from any of the above-noted programs will enable you to obtain a position as an entry-level staff nurse. While you may select from hundreds of associate's and bachelor's degree programs in both traditional and online formats, there are relatively few diploma programs.
Median Registered Nurse salary ranges in select regions.
| | |
| --- | --- |
| Los Angeles, CA | $71,908 |
| Boulder, CO | $67,324 |
| Boca Raton, FL | $64,377 |
| Atlanta, GA | $65,621 |
| New York, NY | $77,737 |
| Dallas, TX | $65,294 |
*Figures as per salary.com