Should You Get a Master's in Nursing? Five Reasons to Get an MSN
Advancing your career as a nurse can take many directions, but the most common route toward supervisory positions is through obtaining a master's degree in nursing. Nurses with master's degrees earn an average of $115,800 per year, and job opportunities are anticipated to grow by 45 percent over the next 10 years. Besides the pay increase, there are several other reasons why pursuing your master's degree in nursing is a worthwhile investment.
Before you begin applying to programs, it's a good idea to decide what your future career plans are. Some undergraduate students bridge their BSN and MSN degrees so they can seamlessly move from one program to the next; others have been working in the field for years before they go back to school. Whatever your path, it's never too late to further your education.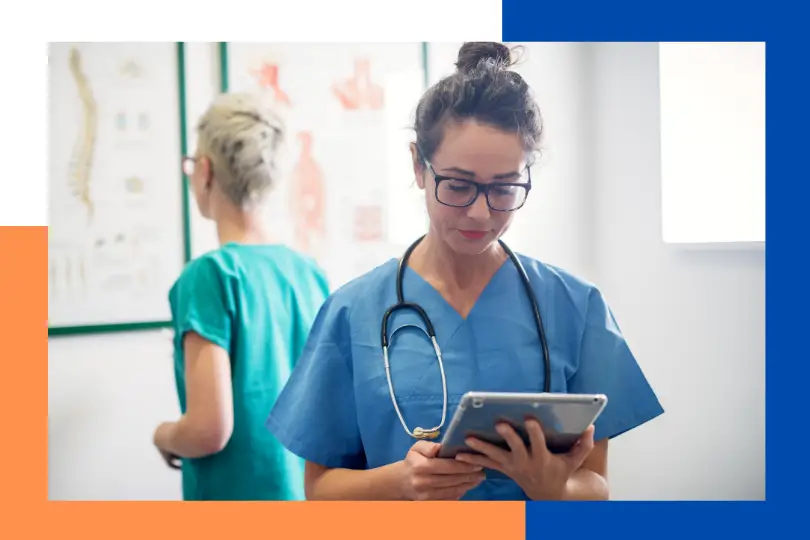 Develop Specialized Skills
MSN programs allow you to specialize in particular concentrations, like psychiatry or pediatrics. With a graduate degree, you'll be able to work as a nurse practitioner and care for patients who you were not qualified to help before. If you find yourself drawn to a particular sector of healthcare, then furthering your education can help you learn new skills, deepen your knowledge and become a specialist in your preferred area of concentration.
Your course to an MSN may look different depending on your educational background. Students who have completed their undergraduate degrees and hold a BSN can apply for a master's program right away. This is considered the standard route today. However, there are also many who hold a two-year nursing degree and work as RNs. In this case, you can enroll in an extended RN-MSN program that gives you a broader education that combines some undergraduate and master's-level material.
Improve Your Work-Life Balance
If you decide to go after managerial roles, then you could transition to a new position that has more regular hours. The 12-hour shifts typical for the nursing profession are exhausting, and they can be difficult to juggle with relationships, family and hobbies. For those who want to settle down and dedicate time to start a family, earning a graduate degree could be a step toward that goal. Many students with undergraduate degrees like to work the floor in a hospital for a few years before transitioning to an educational or managerial position. If you are passionate about healthcare but ready to step back from direct support, then this pathway could be right for you.
Learn While You Work
Thanks to modern technology, there are dozens of accredited MSN programs that are fully online. You won't have to rush to and from a campus or try to squeeze lectures in between your hectic schedule. Instead, you can study from home at your own pace and integrate skills you're developing into your current practice. If you're worried about the cost, don't fear. A private lender can issue student loans that cover the cost of your graduate medical degree. With a private student loan, you'll have total control over how much you borrow, how soon you pay it back and your future monthly payments.
Work Toward a Doctorate
For those passionate about research, a PhD in nursing starts by completing a master's program. If you are more interested in achieving greater clinical expertise, then you could move from your MSN to a Doctor of Nursing Practice (DNP) program. It takes around three years to complete a PhD program while you can earn your DNP in approximately 18 months. If you've always had your sights set on continually growing as a practitioner, then enrolling in graduate school is the first step.
Train Future Nurses
With an MSN in educational leadership, you can go on to train future healthcare workers. Using your own knowledge and firsthand experience, you'll be able to help bridge gaps that have impacted you in your own work. Improving the quality of patient care and work environment for a new generation will allow you to leave a lasting mark on the field. The emotional fulfillment of making people's lives better by sharing your own knowledge is invaluable. For many students, the decision to pursue an MSN is less about the money and career opportunity and more about the ability to touch more lives.