Online Nursing Programs: Your 2022 Basic Guide
Online nursing programs are becoming popular due to the rising demand for quality healthcare by nurse practitioners. According to the Bureau of Labor Statistics, the growth rate of nursing jobs is 9 percent from 2020 to 2030. It's faster and higher than in other occupations.
Nowadays, many nursing colleges offer online courses, RN to BSN degrees, and other nursing bridge programs to aspirants. This move to online learning also addresses the rising demand.
In this article, you'll learn the best options available for you. By the end of this post, you can evaluate the best online nursing programs based on your education level and requirements, financial capacity, and programs offered by a nursing school.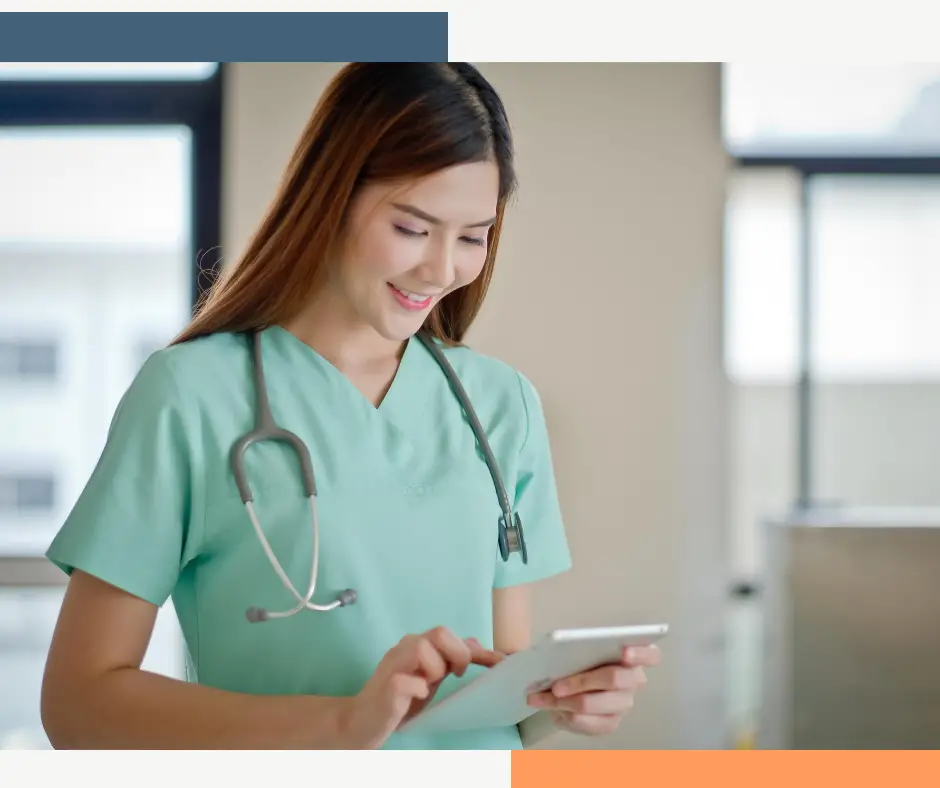 Education Level
Online nursing programs are available for all individuals, whether you're a nurse wanting to advance, a degree holder wanting a change in career or a high school graduate. It's essential to consider your education level because it determines what path to take.
If you have an RN license or an LPN, you can enroll in online bridge programs. Through these bridge programs, you can earn either bachelor's or a master's degree. A doctorate is also available for ambitious individuals.
Educated non-nurses can also enter online nursing programs. Whether you're a business or medical degree holder, you can become a nurse for an entry-level position in less than a year.
So, what are the requirements for enrolling in an online nursing program? Technically speaking, the specific requirements depend on the nursing program you choose. Most often, you must be a holder of a nursing license, a degree holder, a high school diploma, or a GED.
Some online nursing schools require a GPA of 2.5 or 3.0 for accelerated programs.
What to Expect
Since learning is online, nursing schools expect you to have at least a decent internet connection. You use this connection to assess the online platform the school is using. Moreover, here are some of the things you should expect in an online nursing program.
Technology
Nursing schools with online courses use a system for easy dissemination of class topics. Often, the learning management system includes a discussion board, email interface, and video conferences.
Every course material is in digital form. Other nursing schools will require you to buy digital books as your study resources. Sometimes, these digital books are separate costs from the tuition you pay, while others will incorporate it.
Furthermore, expect a technology fee of some sort when you look at the tuition and cost of enrolling in an online nursing program. Usually, online nursing schools pass on the fees of developing the online platform to their students.
Clinical Experience
Even though the program is online, nursing schools will still require you to complete some clinical experience. You can acquire this clinical experience in your local communities.
Some nursing schools will help you find the best institution for your internship programs. Others will allow you to choose.
The number of clinical hours to complete vary on the program you're finishing. For example, MSN programs will require at least 200 up to 600 hours of clinical experience.
Also, online nursing schools discourage clinical completion in the student's workplace. Students can't use the clinical hours spent in their workplace. To avoid this situation, some online nursing schools provide a list of medical institutions where students can have clinical experience.
Full-Time Vs. Part-time
Another great thing about online nursing programs is the flexibility they offer to students. You can choose to take the course full-time or part-time.
Full time will enable you to finish the course fast, which is the best-accelerated program. Part-time will take a little longer than usual.
However, the cost is the same, whether you're doing the course part-time or full-time. Sometimes, some nursing schools allow students to pay the tuition per credit if they opt for part-time. If you choose part-time per credit, the long-term cost might be higher than full-time.
Start Date
Online nursing programs have different starting dates. Despite the differences in starting dates, students start and finish classes in a group.
Traditionally, classes start in spring, summer, or fall. But, in online nursing courses, you don't need to follow these regular start dates. This flexibility benefits students who can't fit regular classroom start dates on their schedule.
Entry to Online Nursing Programs
Entry into online nursing programs is easy. You can do it through direct entry, bridge programs, or accelerated courses. These methods of entering an online course all depend on your availability.
Direct Entry
High school graduates and degree holders choose a direct entry. Direct entry doesn't require any special requirements, especially for individuals with non-nursing educational backgrounds. Your current educational level is sufficient to become eligible for an online course.
Bridge Programs
Besides direct entry, bridge programs for working nurses are available both in online and traditional ways of learning. These programs require a minimum of one year of clinical work.
Some nursing schools accept students who don't have clinical experience yet. Often, admission includes an essay submission that discusses nursing topics.
Bridge programs also require completion of physical science, math, social science, and humanities. Generally, you need to transfer 60 credits of nursing courses and general education.
Accelerated Programs
Accelerated online nursing programs require high admission standards. Often, you need a particular GPA to qualify, such as a minimum of 2.5 or 3.0.
Also, online nursing schools offering accelerated programs discourage students from taking on a job during the course. Why? Accelerated programs are intense and will require full-time learning.
Professional working nurses and degree holders with non-nursing backgrounds can apply for these programs.
Online Nursing Degrees
You can take online nursing degrees at associate/certificate, undergraduate, and graduate levels. The available programs are:
ADN
Direct BSN
BSN to MSN
Second Degree MSN
Associate Level
Associate Degree in Nursing (ADN) program is the best starting point for individuals who want to work as an RN. Online courses are available, which you can complete in 2 to 3 years in a full-time learning setup.
Program requirements include a high school diploma or an equivalent. Some nursing schools will require passing General Education examinations to enroll.
The curriculum often includes fundamentals of nursing, pharmacology, nursing care, surgical nursing, psychiatric, and other nursing-related topics. This program requires passing the NCLEX-RN exam.
Alternatively, you can take the LPN/LVN program. This program is the fastest way to earn a nursing degree because you can complete it in 12 months. The required exam is the NCLEX-PN.
Undergraduate Level
The undergraduate level for the online nursing program is another option for high-school graduates, registered nurses, and other degree holders. Online nursing programs include RN to BSN, direct BSN, and second degree BSN.
The program requirement includes a high school diploma (or an equivalent) for individuals who want to take the direct BSN route. If you're a working nurse, an RN license, and transferred, credits are essential requirements. For second-degree BSN, some nursing schools will require additional admission requirements aside from official transcripts.
Years to complete this degree may range from two to four years. You can enroll online in an accelerated program, full-time or part-time learning.
The curriculum may include general education such as chemistry, philosophy, and nursing courses such as critical nursing care.
Graduate Level
Graduate-level courses are available for working nurses who want to advance in nursing practice and leadership roles. You can finish either a master's, a doctorate, or both.
Graduate programs may take two years to complete in a full-time learning setup. Often, the requirements include a degree (BSN) and a license in nursing practice. In some cases, nurses with an associate degree can take MSN programs without a BSN degree.
Programs include RN to MSN, RN to DNP, second degree MSN. RN to MSN program is usually the conventional route for professional nurses who want to enhance their knowledge and skills.
However, some programs, such as the RN to DNP, allow students and licensed nurses to skip programs for master's degrees.
Achieve Test Prep helps LPNs earn their ADN or BSN degree online in up to 1/2 the time and cost of traditional programs. With No Waiting List to get started, Free Books, and Low-Cost financing options are available nationwide except in parts of California, Alabama, and Kansas. The LIVE instructor-led test-out program allows one to learn at an accelerated pace and earn college credit-by-examination which then is eligible to be transferred to an ACEN accredited nursing school or 100's of universities nationwide. Learn More
Other Online Nursing Courses
Besides nursing care courses, nurses can also take other online courses closely related to the nursing field. You can take these online nursing programs to help you land the roles of nursing educators, healthcare managers, and data informatics.
If you don't want to get involved in nursing care directly, you can take these online nursing courses.
Healthcare Management
These courses require a degree in healthcare administration or management. Most medical institutions require a master's degree to become employed. So, if you're planning to get a job in this field, this online nursing program is your best route.
Nursing Education
Nurse educators become faculty in universities and colleges and provide training and classroom instruction. They educate aspiring nurses in different clinical settings. Often, these programs require degrees at the graduate level.
Nursing Informatics
Informatics is also essential in the healthcare industry. Organized, accurate, and reliable data helps in delivering fast service to patients. Also, graduates of nursing informatics analyze data. The analysis can help in cutting healthcare costs and increase efficiency.
If you're not sure what online nursing programs to take, you can use our evaluation tool to find the best nursing programs.
How to Evaluate an Online Nursing School?
Your next step is to evaluate which online nursing school to choose. There are several aspects you should consider.
Accreditation
Accreditation requires a school to follow a specific set of learning standards. It shows the effort of a nursing school to ensure quality learning.
The CHEA and ED regulate the issuance of accreditation to postsecondary institutions, including nursing. The accrediting agencies under these regulatory bodies are ACEN and CCNE.
The Accreditation Commission for Education in Nursing (ACEN) issues and evaluates accreditation to all levels. On the other hand, the Commission on Collegiate Nursing Education (CCNE) accredits nursing colleges that offer bachelor's and master's degrees.
NCLEX Passing Rates
After learning the course, you need to pass the NCLEX-RN or NCLEX-PN. NCLEX-RN is the required examination for ADN programs, while NCLEX-PN is for LPN/LVN.
Usually, online nursing schools publish their passing rates on their websites. This rate is an indication of an excellent program and school but not an absolute measurement. Some schools have low passing rates, but they have superior online nursing programs.
You also have to check the curriculum that nursing colleges offer. The curriculum should help you achieve your goal in learning nursing care and eventually pass the NCLEX.
Clinical/Hands-On Experiences
Most nursing schools require clinical hours or hands-on experience before finally graduating from the online nursing program. Generally, the minimum requirement is 600 hours of clinical work. Some schools require students to complete less than this amount, while others don't emphasize such school requirements.
Often, undergrad degrees such as RN to BSN and ADN to BSN require clinical hours for completion. So, check out this particular requirement and see if you can squeeze it into your current schedule.
Specialties
Nursing is a broad field and has several specialties. When you pursue advanced learning in nursing care and other related courses, you can choose a specialization.
During enrollment, the school will ask you to choose a specific specialization. Your chosen specialty will depend on your ultimate goal.
These specialties can qualify you for a higher position with increased responsibilities. Through your advanced specialization, you can demand an increase in salary.
State Agreements
Online nursing programs and their requirements may vary from state to state. Check whether a school is part of an Enhanced Nurse Licensure Compact. The eNLC is an agreement between states. It recognizes RN licenses issued by other states.
So, why does this matter? Sometimes, you might choose a school outside your state. Thus, it's essential to know if the state where your selected school operates is part of the eNLC.
If a state is part of this agreement, you don't need to get a separate license applicable to where you'll work as a nurse. This agreement increases your employment opportunities outside or within your state.
The nursing school will provide information about this interstate agreement. So, don't forget to ask about this matter.
If your current RN license doesn't apply to a particular state, you can obtain a temporary nursing license. However, this temporary license expires, and you will need to renew again.
Financial Assistance
Online nursing programs are expensive but a lot cheaper than the traditional way of learning. You can save on transportation, gas expenses, lodging, among others because you don't need to commute or drive to attend a class.
If you can't afford a nursing program's cost, you can seek assistance from your employer in return for additional years of service. This arrangement applies to medical and nursing degree holders.
Some programs allow a work-and-study setup. So, you can continue your current employment while pursuing advancement in a nursing career. This setup is beneficial for students or degree holders who have day jobs.
The US Government also provides grants, student loans, and scholarships to qualified individuals.
Key Takeaways
The healthcare industry is booming, and nurses are in demand. With online nursing programs accessible nowadays, you can advance your career or change it. Moreover, you can learn and finish the online nursing courses in the comfort of your home. You can also retain your current job while learning a new skill.
Before we end this post, here are some takeaways you should remember when searching for the best nursing school.
One, choose the best nursing program that enhances your current skill, fits your schedule and financial capability. If you can't afford the program, you can avail of government grants.
Two, the fastest way to gain a nursing degree is an accelerated program. However, you might need to give up your nursing job temporarily.
So, did you find the answers to your questions? If you didn't, you could use our tools and the various information on our site to know more details. Alternatively, you can ask our expert opinion to help you with the selection process.