Interested In A Medical Career Path? Here Are 6 Professions To Consider
For those of you who have an interest in pursuing a career in medicine, there are plenty of paths to explore. From medical practitioners and nurses to laboratory technicians and technologists, the list is long! This blog post can help make your decision easier by discussing six exceptional careers within the medical field. We will cover what each job entails along with its upsides and downsides so that you can confidently choose which path best fits your interests and ambitions. So don't hesitate; read on if you're considering taking a leap into one of these rewarding professions today!
6 Medical Career Paths To Consider
Medicine is a virtuous and noble profession, but it is also an incredibly challenging and demanding one. Additionally, this is a profession that will require years of ongoing training and education in order to remain competitive. So, whether you are considering obtaining the Alabama pharmacy technician license or doing so in Maryland, the path to success will be rigorous. But, with a strong dedication and passion for the medical field, you can surely make it to the top! More importantly, finding your true calling in this field will make all the effort worthwhile. Therefore, let's take a look at six medical career paths to consider:
1. Physician
Physicians are considered one of the most revered positions within the medical field. They diagnose, manage and treat patients across various specialties; these include family medicine, internal medicine, surgery, and pediatrics, to name a few. It is important to note that becoming a physician requires years of education, training, and experience. If you are considering this career path, you will need to obtain a Bachelor's degree and then attend medical school. In addition to this, you will also need to pass the United States Medical Licensing Examination.
2. Nurse Practitioner
Nurse practitioners are registered nurses with advanced educational qualifications that enable them to diagnose and treat patients independently or in collaboration with physicians. They provide healthcare services such as counseling, immunizations, patient education, and medical tests. To become a nurse practitioner, you will need to complete at least a Master of Science in Nursing degree; some states may also require additional certifications or licensure. Most nurses begin their careers as Registered Nurses before transitioning to the nurse practitioner role. 
3. Laboratory Technician
Laboratory technicians provide vital laboratory services that aid clinicians in diagnosing and treating patients. They are responsible for conducting laboratory tests such as blood counts, urinalysis, and drug screens. To become a laboratory technician, you will need to obtain an Associate's degree in medical technology or a related field. On average, the program takes two years to complete and includes courses in anatomy, physiology, hematology, and laboratory procedures. Furthermore, some states require additional certification or licensure.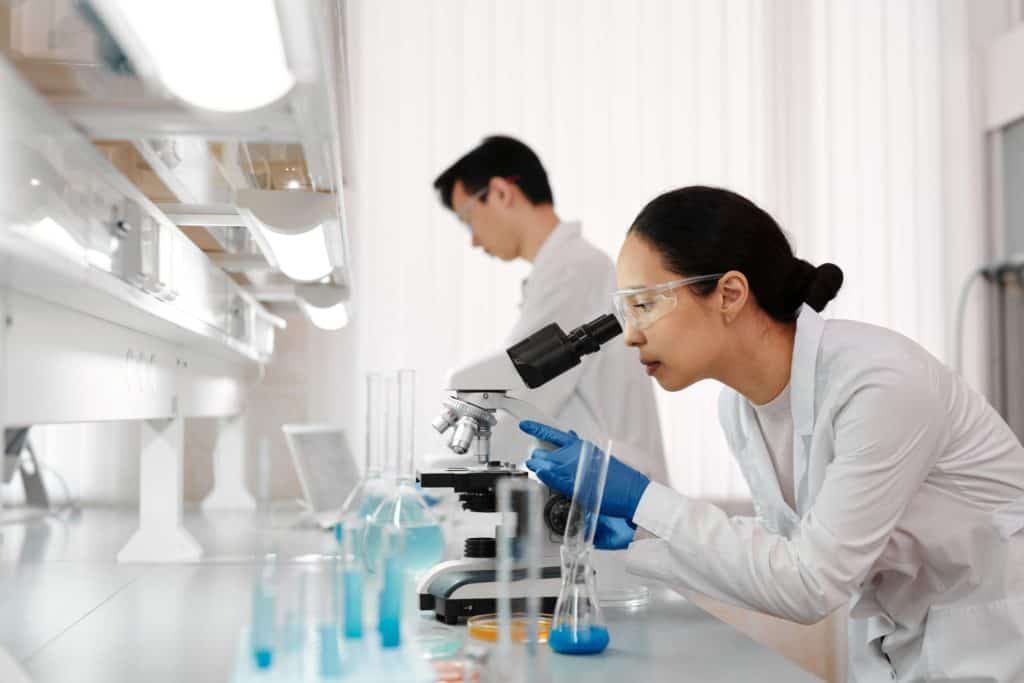 4. Pharmacist
Pharmacists are healthcare professionals who are responsible for ensuring that patients receive the correct medications and dosage instructions. They dispense and counsel patients on the use of prescription and non-prescription medications. To become a pharmacist, you will need to obtain a Doctor of Pharmacy degree and pass the North American Pharmacist Licensure Examination (NAPLEX). Additionally, most states require you to obtain a state-specific pharmacy technician license. Pharmacy is an incredibly rewarding profession and offers an array of job opportunities in a variety of settings.
5. Radiologic Technologist
Radiologic technologists are healthcare professionals who specialize in performing various imaging studies such as X-rays and CT scans. They are responsible for positioning patients, operating the equipment, and ensuring quality images are obtained. To become a radiologic technologist, you will need to obtain an Associate's degree in Radiologic Technology or a related field. Most programs include courses in anatomy, physiology, medical terminology, and imaging techniques. Additionally, some states may require certification or licensure.
6. Medical Assistants
Medical assistants act as the 'right-hand' to a physician by performing administrative and clinical duties. They may answer phones, schedule appointments, record patient information, take vital signs, collect specimens for testing, process insurance claims, and assist with minor treatments or procedures. To become a medical assistant, you will need to obtain an Associate degree or certification from an accredited program. While certification is not required in certain states, it may be beneficial to become certified, as the Certification Board of Medical Assistants provides credentials that are nationally recognized. 
Overall, there are numerous medical professions available for those who wish to pursue a career in the medical field. While each career path requires its own set of qualifications and certifications, the rewards of helping others make any of these professions a worthwhile endeavor. Therefore, if you are interested in making a difference in the lives of others and are willing to commit to the educational requirements, consider exploring one or more of these medical career paths.