5 Great Nursing Schools to go to in the U.S. in 2020-2021
Love it or hate it, but the U.S.'s healthcare system is way better than plenty of countries have. Demand causes supply, and many educational institutions offer nursing programs of different specialties. If you are among students who want to connect life with healthcare and nursing, you have to be extremely careful and pay attention to many aspects. If you are ready for nursing studies and the phrase "I can't handle all the tasks myself; please do my essay for me cheap" doesn't scare you, let us point out the best nursing schools.
Needless to say that the coronavirus pandemic has changed the world. Lockdowns and various limitations are only a drop in the ocean. To speak nothing about online learning. The vast majority of schools, including the U.S., have gone to remote education. Many say that this way is insufficient when it comes to the entire quality of schooling. We would question the claim, as it depends on an exact college and its ability to change the study format. That is why we have collected the best schools to study during the COVID-19.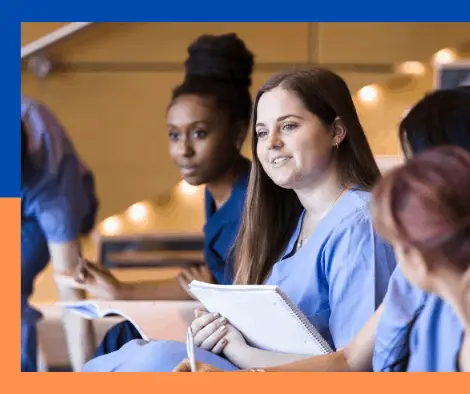 Schools To Consider in 2020/21
It wasn't the easiest task to select several most worthwhile educational institutions. When examining the entire list of nursing schools, we paid close attention to the five following elements:
Accreditation
Tuition (including options of receiving financial help)
Overall quality (program and campus)
National Council Licensure Examination pass rate (NCLEX)
Course objectives and outcomes
Let's find out what we have selected:
University of Pennsylvania
It doesn't have the lowest tuition rate, indeed. However, the quality of teaching is pretty good. The annual tuition estimates $58,000, which is arguably reasonable for such a high NCLEX rate (94,83%).
Online and traditional forms of study are available. However, it is not clear whether a traditional one is being followed these days. Nonetheless, if you choose this school, you can be sure to study remotely.
Founded in 1740, this university is considered one of the oldest nationwide. The student-to-faculty ratio is quite impressive; it is 6:1. One of the most valuable things about Penn's University is that students have their own simulation lab, which allows them to augment their practical skills. Besides that, several mentorship courses are accessible, including exchange programs overseas.
When it comes to options, the University of Pennsylvania offers BSN (Bachelor of Science in Nursing), MSN (Master of Science in Nursing), and DNP (Doctor of Nursing Practice). Therefore, this school is an excellent option for those who aspire to become nurses and don't want to move from one university to another.
Georgetown University
Having the same tuition fee as the previous school, it impresses with its NCLEX pass rate, which is 100%
As one of the oldest and most reputable private schools, Georgetown University has a peerless nursing program. The BSN program is very progressive. Students who are currently studying in high school know whether they are accepted for the next academic year! Another substantial advantage of this school is over 800 hours of pure practice, in which students obtain working in different hospitals across the state.
After graduation, people can continue their studies at Georgetown. The educational institution has top-notch MSN programs, which take only two years to acquire a relevant degree.
There is also an opportunity to skip the MSN course and undertake a combined BSN-DNP program.
University of California Los Angeles
Tuition fees: annual in-state tuition $13,500; out-of-state tuition $43,000. NCLEX rate: 98%
Each and every person who has a knack for nursing knows this university because of knowledgeable graduates. If you are located in the West, this school is your way to go. A bachelor's degree allows you to look for a job after graduation or continue your Master studies. If you intend to get the highest degree, the university will only support your decision. There is a DNP course that takes two years and gives you a prestigious diploma in the long run.
Duke University
Even though this educational institution requires the highest tuition fees ($60,000), it has one of the highest NCLEX pass rates (99%).
If you have a thirst for knowledge, precisely carrying out various research, Duke University is a no-brainer. There is only one program related to nursing that DU offers. It's called an accelerated BSN. However, it might be a drawback, and one might ask why it has only one BSN nursing course if it is widely respected. The point is that Duke University is a well-rounded institution and values MA degrees more.
Nonetheless, anyone can choose this nursing program. Even if you don't have a nursing degree, you can pick the course. If you decide to select Duke University, be certain to get 800 hours of rigorous practice, which will brush up your nursing abilities.
Moreover, Duke University puts a stronger emphasis on higher degrees. That is why you can choose among several MSN and doctoral courses. DU is well-known for its programs for anesthetists.
University of Maryland
For those who are quite tight on budget, the University of Maryland is the best option. Having one of the lowest tuition fees (in-state $11,000, out-of-state $39,000), you will get solid nursing knowledge.
The UM is located in Baltimore and takes over 40,000 students annually. Being not far away from Washington, D.C., it allows you to find a job in bigger cities. What is interesting about the nursing course is that the university treats it very earnestly. That is, even though the entire program lasts less than two years, you have to complete two years of an introductory program.
The University of Maryland is also known for its DNP courses, which are divided into different specializations. For instance, students willing to undergo DNP degrees can choose to become anesthetists, practitioners, etc. The institution also offers nurse-related courses developing graduates' leadership, administrative, and research abilities.
How to Choose The Right School?
The tier 1 school doesn't necessarily mean it is the best of the best. You have to analyze a plethora of universities to decide which suits you the most. Before selecting a school, ask yourself the following critical questions:
Is it better to obtain a Bachelor's or Master's degree?? Or maybe I want to become a full-fledged scholar and get a Ph.D. degree?
Is it better to study in a large or small city? Where exactly? East or West?
Can I afford to study there?
Furthermore, remember to take into account clinical applications, as they aim to increase your skills drastically. Clinicals provide students with practical experience and make you prepared for a full-time job. Every school has different hospitals it works with. The number of hours also varies. Pay attention to the distance between the university and the hospital. Find out how much time practice will be. If you work elsewhere, analyze whether you will be able to work while studying.
And there are many more questions to consider. Keep them in mind when choosing the desired school.
We'll help you decide!