At Nursing Schools Guide, we pride ourselves on researching nearly every nursing school, degree program, and career. It is our goal to do the leg work for our readers (you), so you can know that you are reading trusted, detailed information that can help you figure out which nursing degree or school is the best option for you.
We provide you with the information you need to figure out which nursing school is best for you. Below we walk through some of the highlights of the website, so you can quickly get information on which degree options there are, what schools are in your area, reviews of different nursing schools across the United States, and search for different nursing programs that are currently accepting applicants.
---
Quick Nursing Schools Navigation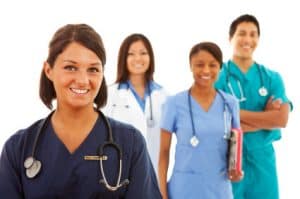 ---
There are over 2,000 nursing schools in the U.S. – your guide
That is a very large number, and it can be difficult to figure out which nursing school – and nursing degree program – might be right for you. And despite a large number of nursing students at numerous different schools, hospitals and private companies in the United States are still looking for more and more nurses within multiple specialties and degree levels.
We continuously search the web to gather the most detailed review of all nursing schools in the U.S. As you browse our website you will find hundreds of hand-gathered results and hand-written reviews and summaries on different nursing schools in the U.S.
For your review or to have us review a particular nursing school or program, please contact us via the contact us page on this website.
---
Guide to Nursing Schools Degrees Based on Experience
When you are trying to figure out which nursing degree is best for you, it is important to know your current education level and what career goals you are looking to achieve.

For Current Nurses
There are many offerings for continuing education for current nurses. We have highlighted all options below – simply click on a listing to view more about each program. If you are already a Registered Nurse (RN), and you are looking to gain knowledge and grow in terms of salary and responsibility, you should consider a bridge nursing program (RN to BSN or RN to MSN).

For Current Nurses: Advanced APRN Degrees
Advanced MSN degrees (Master's of Science in Nursing) and specialties are becoming more common in this day and age due to the customized care people are now looking for. This provides excellent opportunities to become more specialized to help different individuals or families. Nurse Practitioners and Family Nurse Practitioners are among the most common advanced degrees for those with their BSN or MSN. Nurse Practitioners often have similar capabilities as Doctors, but with personalities and goals that cater more towards families. Likewise, Nurse Midwives are becoming more common to help empower women during their pregnancy for prenatal and postnatal care. Below are several common specialties of advanced degrees in nursing.
---
For Non-Nurses Wanting to Get Into Nursing
Not-yet-educated non-nurses: Many people are just coming out of high school or people that never had the opportunity to earn an education that looks to get into nursing. For most people, it is an excellent decision. Healthcare employment is rising and is projected to be one of the largest fields of employment in the near future.
Educated non-nurses: Likewise, there are several people that already have an education but want a career change into nursing – either an Associate's, Bachelor's, or Master's degree – in a completely different field than nursing or healthcare for that matter. Luckily, there are quite a few program options for educated non-nurses! Direct Entry BSN or MSN programs are the typical routes educated non-nurses to decide to go, as these programs can quickly get you into nursing at a relatively high level for compensation and responsibility.
---
Search Nursing Schools by State
There are over 2,000 nursing schools in the U.S. – with either online programs or campus locations in a traditional setting. We have attempted to scour the web and analyze each program in the U.S. Use the below drop down to jump to your state. From there you can see which nursing schools are in your area and if they are currently accepting applicants.